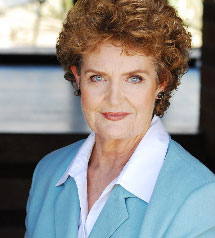 Jenni Prisk founded Prisk Communication in 1990 with the mission to provide exemplary public speaking and communication skills. She has coached hundreds of individuals and corporate teams in the United States and internationally. Jenni is a dynamic motivational speaker.
She is the author of Communication Skills Training, a publication of the American Society for Training & Development (ASTD). For six years she was a faculty professor at the University of San Diego in the Nonprofit Management and Leadership Program. In collaboration with PRIDE Inc. San Diego, she developed and led a recurring course in public speaking for developmentally disabled adults.
Jenni was born and raised in New Zealand, where she gained a Diploma in Adult Teaching and qualified as a Human Relations and Communications Instructor for the New Zealand Marriage Guidance Council. She has a Diploma in Speech & Drama from Trinity College of London, England.
Jenni is a member of San Diego Rotary Club 33 where she serves on the following committees: World Community Service; Interact-Hoover (high school program helping disadvantaged youth to get into universities); Programs (identifying speakers); and Grotarian (events for new Rotarians). Jenni is the Peace Chair for Club 33.
Jenni emcees TEDx Del Mar programs. She is the emcee for the National Conflict Resolution Center's Peacemaker Awards.
For almost a decade she anchored (live) KPBS-TV San Diego fundraisers and has interviewed numerous guests: Dr. Ken Blanchard, Sarah Brightman, Paul Anka, JohnTesh, Patti LuPone, Dr. Wayne Dyer, Dr. Andrew Weil (and more.)
Jenni is a Commissioner on the Status of Women, San Diego. In 2001, she founded Voices of Women (VOW), a nonprofit organization with the mission to expand knowledge of global issues, advocate for human rights, and support the equal participation of women and men in advancing human security. VOW has presented 70+ educational events, and raised significant funds for global nonprofit organizations. The organization supports the Daraja Academy for Girls in Kenya, and in San Diego collaborates with refugee women from East Africa to provide professional development workshops.
Awards:
1994: (first) San Diego Business Journal's Award for Women Who Mean Business
1995: finalist in Bank of America's 1st Enterprise Award Program; honoree in Women Together Awards
1999: regional finalist in Working Woman magazine's first Entrepreneurial Excellence Award Program
2006: Living Legacy Award from the Women's International Center (WIC)
2008: Community Leader Award from the UCSD Student-Run Free Dental Clinic Project
2009: nominee in San Diego Magazine's Women of Worth Awards
2011: YWCA TWIN Award Recipient